When a person searches for something on Google like a product, service or directions to your location, they are entering in keywords. A keyword can be one word or a series of words otherwise knows as long-tail keywords. Knowing how to research keyword competition is crucial in understanding what keywords your potential customers are searching for, as well as which ones have less competition.
It's Good For SEO
From an SEO perspective, the lower the competition for a keyword, the better chance you'll rank on page one of Google. Keywords are the heart of SEO so you must get this right.
But, even more important, keywords indicate a person's intent. They help you understand what your potential customers are searching for. Maybe they are simply doing product research or perhaps they are ready to buy something. Understanding their intent will help you be able to speak more personally to them which will, in turn, build trust.
Make a list of keywords
The first thing you want to do is make a list of keywords that your potential customers are searching for on Google. What problem are they trying to solve? What information are they looking for?
This will not be your final list so just look at this exercise as a dump of all potential keywords and keyword phrases. We'll narrow our list down later.
Here are a few methods you can use to get the creative juices flowing.
Brainstorm
Pull your team together and start throwing out keywords that your potential customers are searching for. You probably already know the answers. What problem are your customers trying to solve? What questions do they ask? What were they looking for when they found you in the first place? How do they talk about their problems? You are sure to come up with a pretty good list.
Alphabet Soup (or Auto Suggest)
Another great way to get insight into what people are searching for on Google is to use what we call the alphabet soup method. You've probably noticed this when you've tried to search for something in Google. As you start entering your keywords into the search bar, Google will automatically suggest other popular keywords related to your search. This is a pretty good sign from Google that those are some pretty popular terms or phrases related to your search. Take note of these as they can give you some great ideas and insight into what people are searching for.

After you complete your search, scroll down to the bottom of the search results page and you'll see related searches suggested by Google. This is another way to help you expand your keyword ideas.

Google Search Console
Another good SEO practice related to keywords is to see what keywords you are already ranking for. There is a good chance that you are already ranking highly for several keywords or terms. You can use this information to optimize those keywords for even stronger rankings. The Google Search Console is a free resource provided by Google and is a great tool to give you insight into your keywords. It can also tell you if your website has broken links or other issues that will keep you from ranking in the search engines.
Core vs. Long-Tail Keywords
By now you should have a pretty good list of 30-40 keywords. Maybe more. The next step is to create two final lists, your Core Keywords and Long-Tail Keywords.
Core Keywords – These are the foundational keywords of your business. Typically you'll have 4-6 core keywords that relate to your product or service. These keywords will be the focus of your home page and you may have separate landing pages that expand on your other core keywords. For example, if you have an in-home senior care business your core keywords might be Senior Care, Caregivers, Assisted Living, In-Home Care, Activities of Daily Living, and Companion Care.
Search volume and intent will be key here and you'll need to understand what your potential customers are searching for. Someone searching for a "caregiver for my mom" has a different intent than "assisted living".
Long-Tail Keywords – These are longer phrases (typically 4 words or longer) that people are searching for that are characterized by greater intent. The search phrase "what gear do I need for tent camping" shows specific intent. I would shoot for a list of 10-15 long-tail keywords and recommend that you use these as a monthly focus on your blog posts. You can get more information about this on my previous article Does Blogging Help SEO?
Keyword Research Tools I Use
Google Adwords Keyword Planner
Google AdWords is an online advertising service developed by Google. It's where advertisers pay to display brief ads, product listings and videos within the Google ad network. The Keyword Planning Tool is a part of this platform to help potential advertisers find the best keywords to bid on for their ads.
The good news is that the tool is free and you can use it for keyword research for your blog or website even if you don't plan on advertising on Google. The only thing you have to do is create a Google Adwords account (but, of course you won't really be placing ads…unless you want to). You will need to go through the setup process as if you were creating an ad. But, just make sure you pause any ads you create so that you don't get billed for them. Then, go to the Keyword Planner Tool to start using the tool.
Then, take each of your keywords (or keyword phrases) and run them through the Keyword Planner Tool. It will give you keyword ideas based on your initial keyword and will show you the average monthly searches for that term as well as how competitive that term is to rank.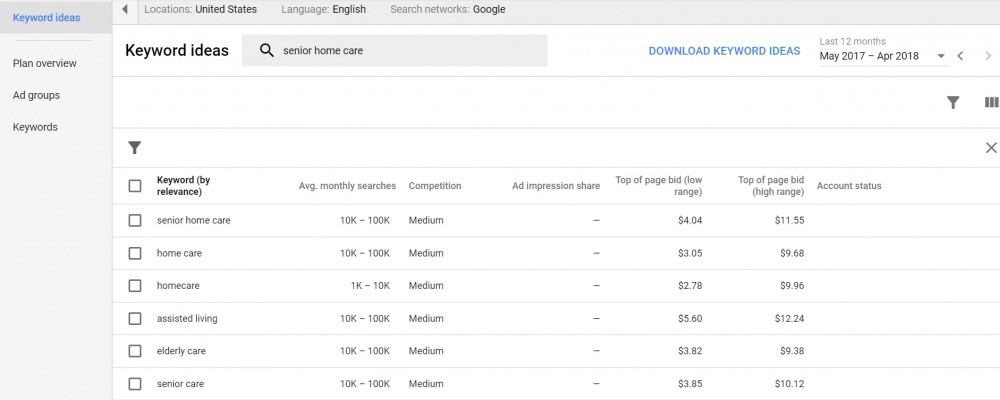 Google has recently updated the tool so I've included a video below that will walk you through the new keyword planner and how you can get the most out of it. It's a great place to start and will give you some good information on which keywords to go after.
Keep in mind that when you combine your keyword with your geographical location, your chances of ranking go up exponentially. Senior Care in Palm Springs, CA will have much less competition than the generic "senior care".
Google Trends
Google Trends is a public web facility of Google Inc., based on Google Search, that will show you how a particular keyword or search-term is trending. This can be very beneficial when deciding if a keyword is remaining relevant or is not being used as much as it was in the past.
Google Trends is also great for showing seasonality of search terms, particularly beneficial for businesses that want to peak at that kind of information.
Notice below that the term senior home care appears to be trending downward over the past 12 months. This might be an indication that people are using different terms like "elder care" for example.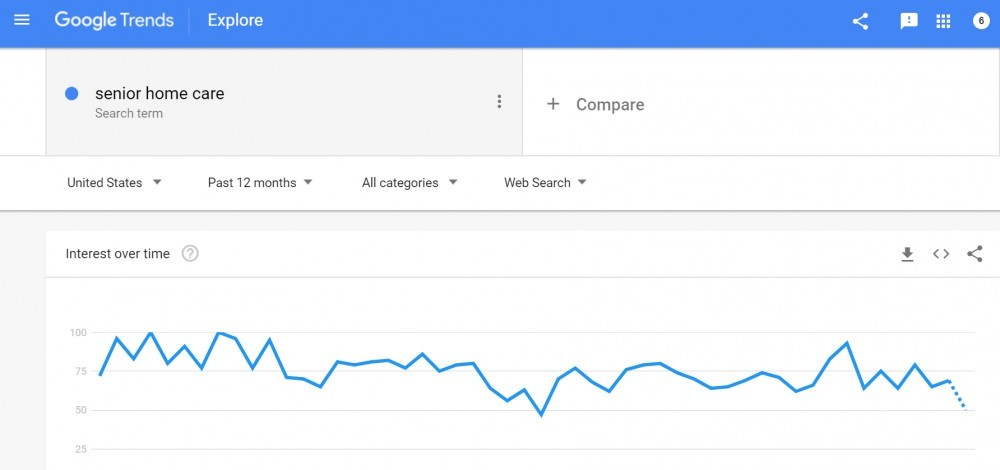 Jaaxy!
If you really want to crank up your keyword competition research consider looking at Jaaxy. Jaaxy is one of the most advanced platforms in the world for all aspects of keyword, website, competition, and market research. It was designed for affiliate marketers but I find this tool to be great for any business. Full disclosure – I use Jaaxy for all my keyword research and can highly recommend it.
Jaaxy offers a starter account that is completely free. You get 30 searches that will allow you to see if this tool is going to benefit your business. So, it's a no-brainer to at least check it out.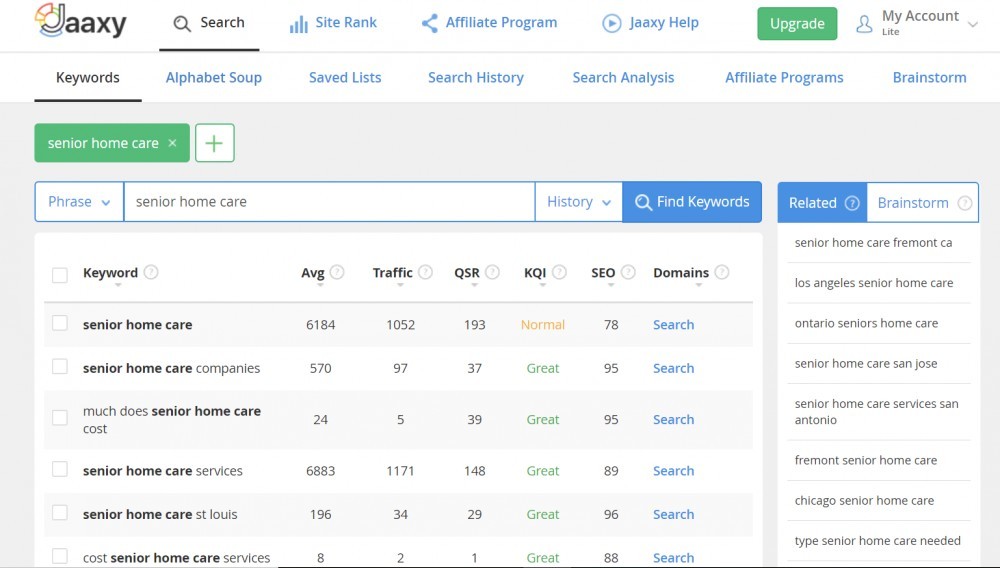 As you can see, Jaaxy will show you the average number of searches per month, the traffic you can expect if you rank on page one, how many websites are competing for that same keyword (QSR), as well as how competitive that term is. A great KQI score means that it has low competition. The closer the SEO score is to 100 the higher the chance of you ranking on page one.
Jaaxy will also recommend other similar searches related to your keyword. As you can see, it will provide a lot more information than you can get on the Google Keyword Planner tool. You can try it out for free and see if it's right for your business.
Go Find Your Ultimate Keywords
Your website and your blog should not be just a bunch of words. There needs to be intent behind your content. You want content that Google will find and deliver to people searching for your product or service. Through keyword research, you will be able to find the top keywords people are using when searching for your business as well as how competitive they are. Armed with this information you can optimize your website and blog to make sure you s