Updated June 12, 2020

The About Us page is usually one of the most visited pages on your site. It is a critical part of your website that helps build trust and credibility. It's an opportunity to "humanize" your brand and give visitors an insight into who you are and how you think. And, it's a chance to build trust, credibility and confidence with your potential customers.
But, most importantly, it's proven to convert more visitors to paying customers. So, why wouldn't you want to get this right?
Unfortunately, this is where many businesses fail. Let's take a look at why your About Us page is so important and how you can write a great one for your website.
Consumers Want To Know What Makes You Tick
Consumers today want to know who is behind a brand and what makes it tick. The internet is very impersonal and consumers are skeptical by nature. Your About Us page is prime real estate on your website and is your opportunity to break through all that and create a connection with your visitors.
When a visitor visits your About Us page, they are looking for answers to questions like:
Is this a big company or a small one?
Are you a private, public or family-owned business?
Where are you located?
Who is the top dog at your company?
How long have you been in business?
What makes your company special?
What are your core values?
Why should I buy from you?
It's your chance to answer those questions and help your visitors get to know you. Use your About Us page to grab your visitors and don't let them go!
Why Is a Great About Us Page Important
1. It Increases Conversions
Your website is a marketing tool. If you do it right, it will attract visitors and convert them to customers. But, it won't happen without intention.
If your landing page is where you draw potential customers in and get them interested in your product or service, your About Us page is where you seal the deal. This is especially important if you are in a service business. Potential customers want to know who they are dealing with before they decide to invest in you. They want to get to know you before they do business with you.
What if I were to tell you that, on average, visitors who went to an About Us page were 5 times more likely to make a purchase and spent 22.5% more than those who didn't? The folks at Blue Acorn, a digital commerce agency, analyzed its client data and came up with these results. That's huge!
2. It Builds Trust
People are trying to determine if they can trust you. They are trying to peek behind the curtain to see if you are the type of company they want to do business with. Can they trust that you are the one who can solve their problem?
If you know who your target customer is, you should have a good idea what they are looking for and what trust means to them. On my About Us page for my senior care agency, I shared my personal story about taking care of my own mother and how that was the inspiration for starting my company.
How can you convey trust to your potential customers?

3. It Builds Credibility
Credibility is critical for small businesses and many struggle with this. Credibility is key in converting visitors to customers. Everything you do will have an impact on how people view your business.
As I mentioned, credibility will increase your sales conversion. When you think about your strategy for building credibility, think about the brands that you love. What makes them credible? Is it the product, service, their image in the community, or maybe their philanthropy?
As important as the About Us page is in the sales process, it tends to get very little attention. Many businesses will throw some corporate lingo on their About Us page with no pictures and call it a day. If you fail to optimize your About Us page, you are losing sales.
How to Write Your About Us Page
Establish a conversational tone

First of all, your About Us page should have a conversational tone. Don't treat it like a boring term paper or writing assignment. Instead, think about how you would tell your story to someone face-to-face.
What would you say? How would you say it?
Would you be academic and monotone? Or, would your face light up as you described why you started your business and how excited you were the day you opened your doors? I think you can see the difference.
Make it engaging and fun. Let people get to know you.
Write in the First Person
I think this is one of the most important characteristics of a great About Us page. Write it in the first person. Talk with your prospective customers as if you were having a conversation with them.
Many people think that the About Us page should be written through the eyes of an objective third party. I totally disagree. Whatever you've been told about the benefits of writing in the third person, forget it. You don't want your About Us page to sound like a term paper. Boring. And, you will lose visitors.
Tell Your Small Business Story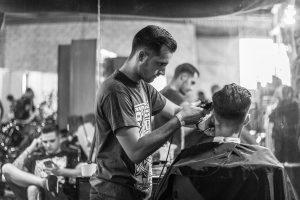 Even if your company doesn't have an interesting and compelling story, you can tell A story. Focus on what makes you human. Maybe it's a story about why you started your business or how you found your passion for what it is that you do.
If you've been in business a while, maybe you talk about your humble beginnings and how you've changed and evolved over the years, always focusing on making your product or service better. Make sure to highlight the major milestones and include pictures if you can.
Don't be afraid of where you've come from. Even if you started out in someone's garage, celebrate it. The more that people can see your human side and connect with you, the more trust they will place in you and your brand. Your personal touch will set you apart.
You don't have to tell everything. If you've been in business a long time, no one wants a recap of every year you've been in business. Capture highlights and focus on key elements of human interest.
Also, think about what emotions you want your visitors to experience when reading your About Us page.
Show Your Personality & Be Authentic
I recently heard the About Us page described as being the soul of your business. It's your personality. In order for that to show through, you need to be authentic and true to yourself. Let visitors get some insight into your thinking and personal philosophy.
It's ok to even show some vulnerability. After all, are any of us really 100% confident in everything we do? Unless you are extremely narcissistic, my guess is no. This vulnerability can be a point of connection with others.
I would also recommend you consider what emotions you want your visitors to experience when they visit your About Us page. Do you want them to feel inspired, uplifted or empowered? By putting yourself in their shoes, you'll be in a better position to write something that helps convey those feelings.
State What makes you different.
Remember, your About Us page is key to making sure you convert visitors to customers. One of the best ways to do that is to talk about what makes you different from your competition. Why does your product or service stand apart from the others?
This is a great time to restate your value proposition. Your landing page talks about your product or service while your About Us page tells your visitors why they should buy from you.
A Picture Can Say a Thousand Words

We've all heard that phrase before. It's especially true on your About Us page. Include some images or a video to help capture your visitors attention and keep them there.
The photos don't necessarily need to be head shots of you and your team, although that is a good way for potential customers to get to know who they'll be working with. The photos could be of your team in action, either at work or at an outside event. Something like that can help add character to your brand.
Including a short video can also do a lot to keep visitors who have a short attention span. It can be a video that highlights your products, services, or helps explain why you are different.
Remember, It's Really About Them
Even though your About Us page is about you…at the end of the day it's really about your customer.
Your About Us page should build empathy with your customer. They are looking for ways to see themselves in your mission statement. Potential customers want to know what kind of problems you solve and the solutions you have to offer. Bottom line…they want to know how you are going to solve their problems.
They are also looking for you to anticipate some of their objections. They might be wondering if your competitor might be more qualified or have a better service. Maybe they're not convinced that your product or service is the best.
You don't want them leaving your website with those questions unanswered.
It may be as simple as stating your credentials or perhaps stating one of your success stories. Or, in my case when I had my senior care agency, I talked about taking care of my mother for 8 years and how that inspired me quit my corporate job and start my own in-home care agency.
Make sure that your About Us page focuses on how you're going to solve your customers' problems.
Examples Of Some Great About Us Pages
If you are looking for some inspiration for your About Us page, check out some of these below. They are said to be some of the best out there.
Go Tell Your Story
I hope this article has helped you put some thought into your new, fabulous About Us page. I can't stress how important it is to your conversions. Take some time to incorporate some of these ideas into your site and you will reap the benefits. And, do share your About Us page. I'd love to take a look.
Also, let me know if you have a favorite About Us page!